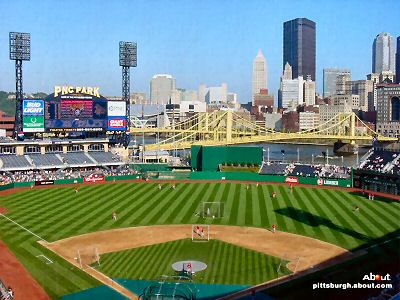 Deadspin
is doing a feature called 'Why your stadium sucks', a weekly column going through baseball stadiums. I am not going to say that a park sucks unless it is really deserved (and believe me, some
are
deserved). Today's park is
PNC Park
in Pittsburgh, home of the Pirates, owners of 15 straight losing seasons and on the cusp of breaking the Phillies' record for consecutive losing seasons.
PNC Park is probably one of the most beautiful places to play baseball in the world. The location of it and the views of downtown Pittsburgh are a sight to behold. Too bad that they have crappy Pirate teams playing in it. My one experience going was in 2002, when the Phillies came to Pittsburgh for a three game set in April. The Phillies got swept (of course!), but I was more enamored with the skyline and the bridges going across the Alleghany River. Maybe that was the idea of the design of the stadium? At least until the Pirates get good again.
The experience that I remember more about being around the stadium than the game itself was witnessing a drunken contest on the
Roberto Clemente Bridge
to see who could get the longest stream of urine into the Alleghany, then being harassed for wearing Phillies' clothing by the same drunks. And this was
before
the game.